Registration and Blockchain Wallet Setup
If you are playing The Six Dragons for the first time, there are a couple of easy steps you need to follow before playing.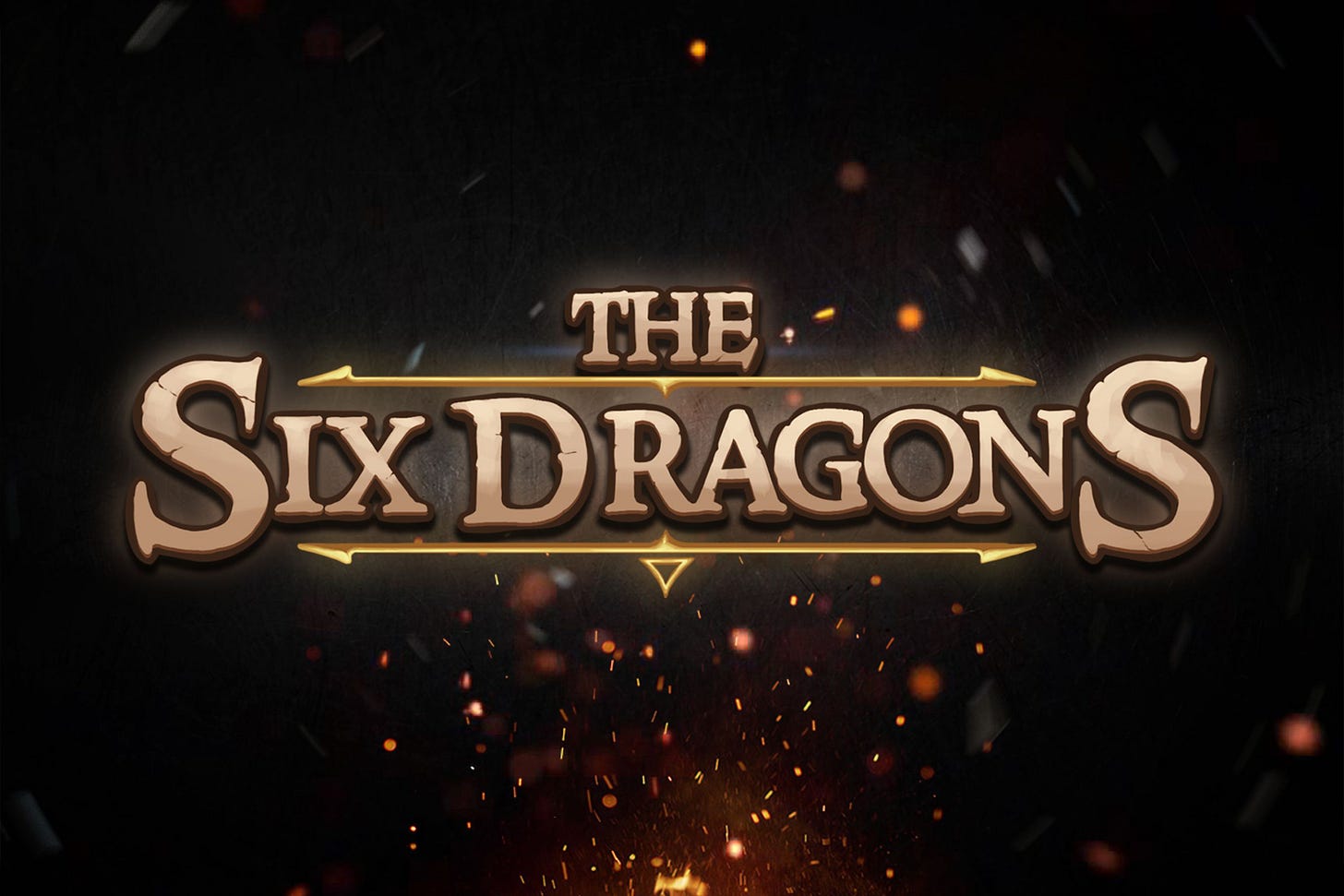 Prepare your blockchain wallet.

To play in blockchain mode in the game, you need to connect your blockchain wallet with your in-game inventory. This will allow you to use your blockchain assets in-game, but also to receive the items from the game straight to your wallet.

The game connects with the Ethereum network, hence an Ethereum wallet is required. Please note that currently, you need to use your Enjin Wallet to play in blockchain mode. You have 2 options. To use your existing blockchain wallet from the Enjin app, or to import your existing Ethereum wallet from another wallet to the Enjin wallet (recommended only to experienced users that can handle their private keys securely).

For more information on how to download, prepare and manage your Enjin wallet, visit https://support.enjin.io/help or submit a ticket here: https://enjin.io/support/contact

Register in the game menu

When your wallet is installed and well configured, it's time to register your account in the game. On the main menu, select the "Blockchain Login" option and choose "Register new user".

You will be prompted to enter your email address, your username (you can change it later but choose carefully as this will be public), and your designated password. Press "Register" and wait for an email that confirms your registration.

Link your wallet.

In the next screen, you will receive a QR code with your private wallet link code. Don't share this with anyone else. Head to the Enjin wallet app, select the option "Linked Apps" on the left side menu, press "Link App", choose the wallet you want to connect to the game (in case you have more than one blockchain addresses) and then scan the QR code you see in the game screen with your mobile wallet. Alternatively, you may use the link code we emailed you in the confirmation message, and link the wallet without the need of QR scanning.

If this process is successful, you will see a pop-up on the screen informing you that your blockchain wallet is successfully linked, and the blockchain mode is ON.

Enter the game.

After your blockchain wallet is linked with the game, you may start a new game, or load an existing one in case you have saved progress. Remember, you don't have to link your wallet with QR code every time you play the game, but you have to login in blockchain mode using your email and password.
Notes
By linking your wallet in the game, you retain full control over any asset you hold. Put simply, we use this linking process only to verify that you hold the assets in a specific blockchain address. In every case that we need to use any of your blockchain assets (e.g. use a key to enter a dungeon, use a crystal to enter an arena, send materials to craft an item), you will need to explicitly accept the transfer request for the specific transactions. No personal, or sensitive information is transferred to the game engine.

In many cases, to fully use the blockchain features of the game you will need to hold a small amount of Ethereum and Enjin cryptocurrencies in your wallet to pay the network fees or pay for in-game items.

If you face difficulties while linking your wallet, the best way to get support is by asking in our discord server, where mods and community members will be able to assist you. You can always submit a ticket to our help center.